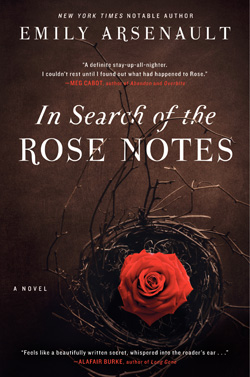 "An emotionally complex and deeply satisfying read." – Publishers Weekly (starred review)
"Absorbing … Ms. Arsenault here reveals strange truths beneath everyday surfaces." – Wall Street Journal (10 Best Mysteries of 2011)
At age eleven, Nora and Charlotte are the best of friends—until their teenager babysitter, Rose, disappears under mysterious circumstances. They decide to "investigate," using paranormal theories and techniques they glean from a hand-me-down collection of Time-Life books. But their search goes nowhere, and leaves both girls distraught and angry with each other.
In her late twenties, Nora is drawn back her old neighborhood, and to Charlotte, when Rose's bones are found. She was probably murdered, and Charlotte is adamant that they solve the crime. Nora—who was the last known person to see Rose alive—is forced to reconsider her memory of the events surrounding the disappearance, and her own troubled adolescence following those fateful days. And she's not sure if she's ready to face the secrets that begin to surface.
Told in alternating narratives from the past and present, this is a mystery about broken friendship and the unease of revisiting adolescent memory.
"In Search of the Rose Notes" feels like a beautifully written secret, whispered into the reader's ear about the lives of two former best friends now tied together only by a mystery. This is a smart, creative and utterly charming novel."
– Alafair Burke, author of Long Gone and Angel's Tip
"An enthralling, extremely well-written novel . . . a definite stay-up-all-nighter. I couldn't rest until I found out what had happened to Rose. "
– Meg Cabot, author of Abandon and Overbite