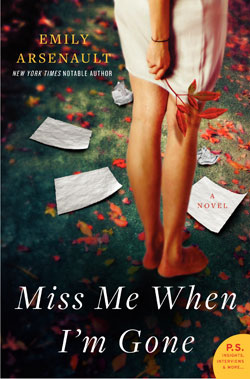 "Outstanding … Arsenault's lyrical, moving prose serves to make this more than just a compelling whodunit." – Publishers Weekly (starred review)
"Absorbing … not only a fair-play murder mystery but a novel of sweet fulfillment for the pasts of the two deceased characters and the future of their chronicler." – The Wall Street Journal
"The characters come to life nicely, and subtle clues build to a surprising, satisfying conclusion . . . thoughtful tale of how seemingly unimportant choices can bring unexpected consequences." – Library Journal
"Evocative and lovely story." – The Associated Press
___________
Miss Me When I'm Gone was released July 31, 2012 in trade paperback and eBook by William Morrow.
Author Gretchen Waters made a name for herself  with her bestseller Tammyland—a memoir about her divorce and her admiration for country music icons Tammy Wynette, Loretta Lynn, and Dolly Parton—which was praised as a "honky-tonk Eat, Pray, Love." But her writing career is cut abruptly short when she dies from a fall down a set of stone library steps. It is a tragic accident and no one suspects foul play, certainly not Gretchen's best friend from college, Jamie, who's been named the late author's literary executor.
But there's an unfinished manuscript Waters left behind that is much darker than her first; a book ostensibly about male country musicians yet centered on a murder in Gretchen's family that haunted her childhood. In its pages, Gretchen seems to be speaking to Jamie from beyond the grave—suggesting her death was no accident…and that Jamie must piece together the story someone would kill to keep untold.
"I really loved this book! And I have Emily Arsenault to thank for my new appreciation of classic country music."
— Jennifer McMahon, author of Promise Not to Tell and Don't Breathe a Word